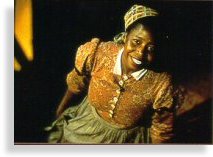 Associated Press, as printed in The Detroit News
AUGUSTA, Ga.-- Butterfly McQueen, who played Scarlett O'Hara's dimwitted maid in Gone With the Wind and later dropped out of acting, unhappy with dumb roles, died after a kerosene fire in her home.

McQueen, 84, was critically burned while trying to light a heater Friday and died about 10 hours later at Augusta Regional Medical Center.

Neighbors cried as they recalled seeing McQueen's clothes in flames. Neighbors and two passing Boy Scouts eased her onto a mat and pulled her out of her house onto the sidewalk.
No relatives called and her body will be donated for medical research, a hospital spokesman said.

But lots of friends and admirers called. Dozens of people from around the country called the hospital Friday, sometimes in tears, burn center nursing director Butch Dorman said.

"People loved this woman," he said. "She was a private person, but she had great friends."

Born Thelma McQueen in Tampa, Florida, to a stevedore and a domestic, McQueen studied nursing in New York, then a teacher suggested she would be a good actress.

McQueen's career spanned Broadway, the movies and television. But her immortality rested in her small role in the 1939 film Gone With the Wind.

Hers was a role no black performer could relish--a slave, and a dimwitted one who gets slapped by Scarlett.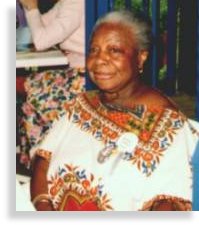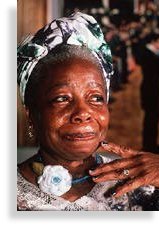 But few could forget the half-pathetic, half-comic Prissy, admitting, just as Melanie was about to give birth, that she had lied about being a midwife. "Miss Scarlett, I don't know nothin' bout birthin' babies!"
"I hated it. The part of Prissy was so backward," McQueen told an interviewer in 1986. "I was always whining and complaining. But now I'm very glad I made the film because now I'm living off it."
In later years, she frequently made personal appearances in connection with the film, reminiscing and signing autographs.
McQueen got the name the nickname Butterfly early in her career after dancing with the Butterfly Ballet in a production of A Midsummer's Night Dream.
She dropped out of film acting in 1947, saying she was happy about her career but resented playing dumb characters. But she returned in 1974 playing Clarice in Amazing Grace with Moms Mably, Slappy White and Stepin Fetchit, and Ma Kennywick in Mosquito Coast with Harrison Ford.
From 1950 to 1953, she appeared in the television comedy Beulah, one of the first shows to star a black performer. She played the best friend of the title character, played first by Ethel Waters and later by Louise Beavers.
McQueen who never married, bought the one-bedroom house in Augusta around 1960 and began spending winters there. She moved in full time in her later years.
"Whenever you did anything for her, she's try to pay you, " said neighbor Christopher Elim.
He recalled her trying to pay him for trees he planted in her yard. When he wouldn't take cash, she came over with a cake she had baked.